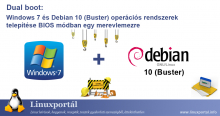 Content
page: Installing Windows 7
The 1. page content
Introductory
In this dual-boot tutorial, we first install a Windows 7 operating system and then install a Debian 10 (Buster) copy. The installation is 64-bit BIOS is based on a single machine MBR Partition Schema 64-bit systems will also be mounted on two partitions of a built-in hard disk.
This combination is of the simpler kind, and it is also realistic to install Debian on an existing Windows 7, for example, so this is the first part of the dual-boot / multi-boot description series.
A
Multi-boot systems side
I already mentioned that Windows 7 has reached the end of its life, but as many people are using it, we are still working on installing it.
Prerequisites
Before starting the installation, you should consider examining the influencing factors and conditions to make sure this is the right setup for us. Because this applies to all parts of the dual-boot / multi-boot description series, this is the subject of the Multi-boot systems category page I collected the most important theoretical parts.
hardware environment
So here's a 64-bit BIOS machine that has a piece of 80GB blank hard disk (at least that's what this dual-boot installation is intended for). Also, I set up 4 processor cores and 4 GB RAM on the virtual machine, which is perfect for this purpose. If everything is available and installers are also at hand, we can also start the installation.
Installing Windows 7 (x64)
If you already have a Windows 7 system that you want to install as a secondary Debian 10 (Buster) operating system, you can skip the Windows 7 installer and configure the partitions during Debian installation. However, if you do not have anything installed on your machine, continue installing Windows 7.
After starting the computer with the Windows 7 installer and selecting the 64-bit version, the installer will ask you for the language settings
Language settings
Do not be fooled by the interface, because I have a Windows 10 version packed with the Windows 7 installation framework, so during the installation the windows of the installation process appear in a Windows 10 style, but the installation process remains the same.
Select your language settings and move on.
Installation
In the next step, you can choose between installation and "Repair your computer":
Of course, in the fresh installation, select the middle one Installation button. If there was a problem with an earlier installation, you might need to repair your computer.
Activating Windows
The next step is to activate Windows: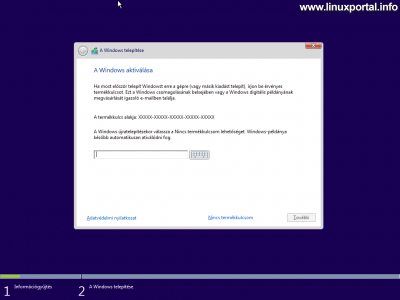 If you have a product key, enter it here. It is irrelevant for the presentation of the dual-boot installation whether Windows is activated, so I will continue with the "No product key" option below.
Select system type
Next, we need to select the type of system we want to install:
Here, select the version that matches your product license. I'm installing the Professional version.
Accept License Terms
Next, we need to accept the license terms:
Check the checkbox below and then click next.
Installation method
In this step, you need to choose whether to perform a simpler upgrade or customize the installation with more detailed configuration options:
Select the bottom detailed installation method here.
Partitioning a disk
So far, this is the first important step in dual-boot installation that we need to do carefully. So we need to partition the disk space in the machine so that both operating systems have a free primary partition (and Debian will also need a swap partition). If no partition has been created on the hard disk yet, the first round of this state will accept us:
So this machine has an 80 GB storage that we will split into two. If you already have partitions on your hard disk, you need to decide what to do with them. Given that this tutorial is about dual-boot installation on an MBR partitioning scheme, the number of options is limited: You can have a total of 4 primary partitions on the MBR-type disk. Two of these will be used by Windows and two by Debian. So with that in mind, the options are:
If there is one partition on the disk and there is still unpartitioned disk space that will be sufficient for the second (Debian 10) system (minimum 10-15 GB), install Windows on the first partition, if it suits us.
If you have one or more partitions on the disk, you can delete them and start creating partitions again.
If you already have two partitions set up for the two systems, then you can install Windows on the first partition, and from the second partition and then install Debian, you need to clip a little bit for the swap partition, of course if you want a swap partition for Debian recommended).
In short, the Windows installer automatically splits the partition assigned to Windows into two additional primary partitions by cutting off the reserved system partition and re-creating the installation partition. So we don't have to go much further with Windows. The Debian part will be enough to deal with during the Debian installation.
In my example, I now create a partition of 80 GB of free space that will be enough for Windows. Starting from the example of my laptop, which has a Debian 10 (with desktop) and a Windows 7, where Debian so far has a total of 15 GB and Windows 7 has 47 GB, so I say the available 80 GB I create a 60 GB partition for Windows.
Of course, everyone should handle this according to their own storage capabilities and future needs. Nowadays I usually have hard drives that are much larger than 80 GB, I only set this size up for the virtual machine to illustrate the dual-boot installation so that I can better illustrate the limited capabilities mindset so that readers with a smaller HDD can make the most of this on the issue.
After deciding on the size of the first partition you want to create for Windows 7, click on the "new" option. An entry field will appear below the list of partitions where you can specify the size of the partition you want to create in MB. By default, it offers us the full size setting, which is 80 "MB" for the 81920GB HDD (below ...). So here I set 61440 MB (60 * 1024) to come out at exactly 60 GB: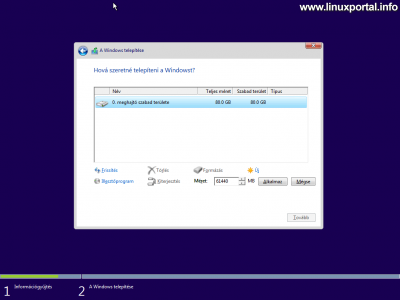 Then click "Apply".
And here we are warned that additional partitions can be created by the installer:
Click OK here.
You will then create two new partitions: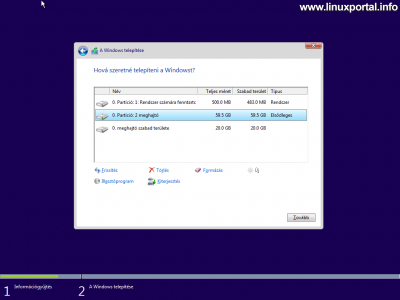 So here is exactly what I wrote earlier: From the 60 GB you set, you "cut" yourself a 500 MB system reserved partition, and the "remaining" 59,5 GB of space created the target partition where we are going to install it.
It is interesting to note here that when specifying the size of the partition it was listed in MB next to the input field, but it still had to be multiplied by 1024 to produce exactly 500,0 MB and 59,5 GB partitions. So above it really is
My b
size had to be set, only MB was written incorrectly. Of course, all of this is just hair-splitting for me, because the world doesn't crash if we set a round 60000, so we can work with more accurate storage sizes later in the machine operation.
If you are up to now and the selection is in the correct partition then click on Tovább button.
Installing Windows
Then the installer starts, which we have to wait for: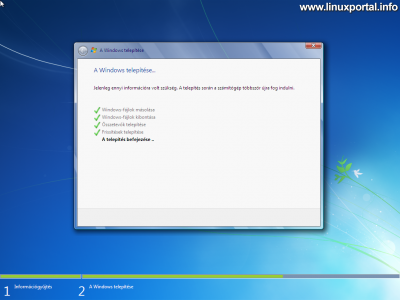 Machine restart
After the installer has run, it will restart your machine: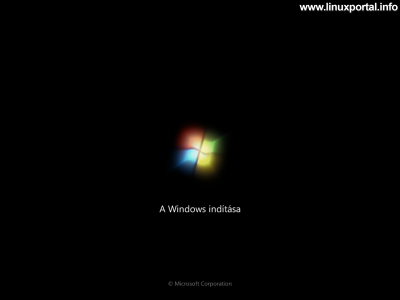 Windows setup
There are still a few things to do after the system starts up.
Username and hostname
First we need to enter the username of the main user of the system and the name of the computer:
Here, stop the data that suits us and click on Tovább button.
Jelszó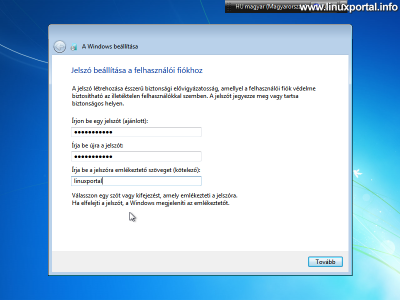 Then enter your password and move on.
Updates
At the beginning of this tutorial it was mentioned that Windows 7 is no longer supported, so whatever we choose here, the system will still work perfectly.
Set date and time
Then we can check the date and the correct time zone setting: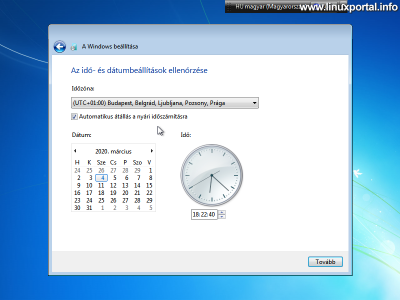 If all is right, then move on.
Set up a network
Set the option that suits your situation here. Normally, on a home computer behind a router, you should choose Home network. But if you use the machine in a different way, choose the setting that best fits your needs. You will then connect to the network and finalize your settings:
Finalize settings
You then prepare the table and you're ready to go.
Windows ready to use
So this would be the first part of this dual-boot installation, the next page we will continue installing Debian 10 (Buster) on another partition.
Related Content, Useful Links:
Navigation