Content
Introductory
Here's how to create a bootable flash drive with the new Rufus program. I've made another about this before description, which was made with the Rufus 2.18 version, but since then some time has passed and the main version has been leaked and new features have been added. Therefore, you deserve another presentation. And since I am trying this version for the first time, it will be a bit of a test for this guide, where I will try out the new buttons and features as well.
So now I'm going to create a bootable flash drive with Rufus 3.3, which will be loaded with a Debian 9.5 Live operating system with the KDE desktop environment. But also great for Debian 8 (Jessie) or the Debian 9 (Stretch) is a minimal server also to compile your installation kit.
The reinstallation of my desktop (replacing Win7 with Debian) has become very topical, so anyway I have to create this flash drive, then I'll write a little about it.
Obtaining a Rufus program
Download the latest Rufus program from your site:
https://rufus.akeo.ie/
Currently the 3.3.1400 version is the latest (2018-09-17 release)
Creating a bootable installer flash drive
Start the program and the main panel will appear immediately. At first glance, some new features are noticeable (compared to the most recent 2.18 version I used and known). These are also discussed on the fly.
Device Properties
Device: Here you can select the target flash drive. I just have an 9.2 Debian installer inside, so print it out.
Next to the drop-down is one to the right floppy disk icon. This will save the contents of the flash drive in disk image format. This is a new feature compared to the previously introduced version. This is very useful for backing up your USB flash drive if you want to install another operating system but also keep the old one. Clicking on the icon will bring up a standard "Save As" window where you have to enter the name of the output file. I'm trying it out, I'm making a backup of the current contents of my flash drive. After choosing the location of the file, no more questions are asked, but the progress bar at the bottom of the main panel starts with a progress bar:
After the progress bar went through, it switched back to the ready state and saved an 15 gigantic .vhd file, which of course can be browsed to boot boot, so it works back and forth.
I found a single little thing here, which can be confusing to make a picture file of the entire 16 Gb flash drive, no matter how big the content was originally on it. So archiving installers is not the best option, especially if you have a large flash drive, because it also "saves" the empty space. Of course, this is still the case, and image files can be created this way by storing each byte of the media, including the blank ones.
All in all, this is a very handy feature, especially if you frequently switch operating system installers.
Moving on to the panel a Boot selection drop down comes:
Here you can choose from several boot systems or leave the boot image. Leave this option as operating system installers include the appropriate boot partition for them.
Click the select button to browse the image. Here I set up my 9.5 Debian.
After browsing, there are still a few options to configure:
Partition Schema: MBR vagy GPT. The point here is what system the target computer is installing on (BIOS vagy UEFI), because which system is running on the same system, we need to write our boot flash drive to start the installer.
For older BIOS machines, select MBR (Master Boot Record).
However, if you are installing on a new UEFI-enabled computer, select the GPT option.
There is essentially a difference in the size of the partitions that can be managed: a BIOS machine can boot with a MBR partition from a max 2 TB partition, and a secondary partition can handle 4TB, while GPT partitions on newer UEFI machines no longer have such limits.
Also, the old BIOS based MBR partitioning scheme can only handle up to 4 primary partitions. So, if we plan to install more operating systems on the computer, keep that in mind.
Based on these, decide which mode to install your computer on.
Target: Here, what you have to offer depends on what you have set up: MBR is only "Bios or UEFI" and GPT is only "UEFI (not CSM) "option will be available.
If you are not sure, you can choose the (older) MBR standard as it will be booted by the newer machines, but in this case there will be a maximum of 2TB boot partition on which to install our system.
List USB devices: This option also lists USB hard disks that can also write a bootable installer. Leave it blank.
To add patches to legacy BIOSs (extra partition, alignment, etc.): This option adds greater compatibility to older BIOSs. Leave it blank, unless we have a very old machine.
To use a Rufus MBR with a BIOS ID: This option is only available when selecting the old DOS Boot options.
Formatting options
Volume label: Enter the partition name here. When browsing image files, it fills it out to your own customization, but you can modify it.
File system: FAT32 is good here, it only applies to the installer now. When you install the operating system, you can configure the file system of the machine.
Cluster Size: Leave it by default
Quick Format: You can check this so you don't have to wait much longer for a larger flash drive.
To use an extended volume and icon files: Let's leave this set too.
Search for Bad Blocks: Here, we assume that our media is flawless, so it's faster if you don't turn it on.
condition
Here, the progress bar will show you the progress of formatting. Icons in the lower left corner of the panel:
Small globe icon: Change application language. Clicking on it will bring up a long list of languages.
Info icon: Display application information. Clicking it will bring up an info panel with version and license text.
Settings icon: Here is a small configuration panel with update settings:
Show Log Icon: Clicking this will bring up a log window where you can store all previous actions and various settings information.
Launching
If everything is set up properly, then the startup can come!
When installing Debian, you will still be issued with the same notification window as before:
Of course, here I choose yes.
The following panel will still appear, as in the previous version:
Here I look down the recommended option.
And finally, an alert panel that warns you about permanently deleting data: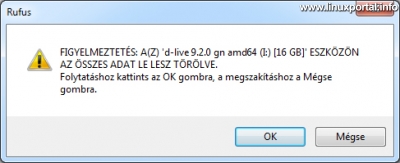 Here, too, and formatting and copying of the files will come:
Here, the progress bar is a little different, because it starts to creep up at the beginning and seems to have stopped or frozen towards the end when copying large ISO files. But after a few minutes (seemingly) standing still it quickly reaches 100% and is ready.
Summary
Overall, it brought me the expected level of this new version, and even above it a bit. I particularly like the image backup feature.
The program is fast, reliable, and is a standard part of any installation kit.